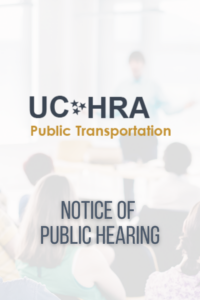 Public Hearing Notice
Notice is hereby given that a Public Hearing will be held by the Upper Cumberland Human Resource Agency (UCHRA), Monday, June 27, 2022 at 5 p.m. at Upper Cumberland Human Resource Agency, 580 S Jefferson Ave., Suite B Cookeville, TN 38501. The purpose of this Public Hearing is to consider a project for which financial assistance is being sought from the Tennessee Department of Transportation pursuant to Section 5311, 5339, 5310 and subsequent federal programs of Chapter 53 of Title 49 of the United States Code.  The project is generally described as follows:
UCHRA contracts for rural public transit services within the fourteen-county region of the Upper Cumberland area of Tennessee.  This project will provide access for rural communities to routes with intercity connections.  The public transit service is open to the general public and anyone of any age can ride for a minimum fare per trip. Transportation is also provided by contract for eligible members of TennCare, Job Access, and other federal programs.
The Americans with Disabilities Act prohibits discrimination on the basis of disability.  At least 91% of the transit fleet has lift-equipped vehicles for accessible transportation to disabled and non-ambulatory persons.  It is the policy of UCHRA that no person shall, on the grounds of race, color, or national origin, be excluded from participation in, be denied the benefits of, or be subjected to discrimination under a program or activity receiving federal financial assistance, pursuit to Title VI of the Civil Rights Act of 1964 (42. U.S.C. 2000d).
UCHRA announces its FY 2022-2023 goal of 5% for business opportunities for Disadvantaged Business Enterprise (DBE).  Any eligible DBE interested through a competitive bid system to provide services relative to maintenance, insurance, gasoline, and oil, etc., or may have other opportunities relative to transportation services, should submit a letter of interest to the Transportation Program Director listed below. 
This Hearing is to provide all interested persons with the opportunity to present their views of the social, economic, environmental and other effects of the foregoing so the project will best serve the public interest.  Representatives will be present one hour prior to the Hearing to informally explain the project plans and related information to all interested persons.  Written statements and other exhibits in place of or in addition to oral statements made at the Hearing may be submitted to Holly Montooth, Transportation Director, Upper Cumberland Human Resource Agency, 580 S Jefferson Ave, Suite B, Cookeville, TN 38501 within ten (10) days following the date of the Hearing, and a copy submitted to the Tennessee Department of Transportation, Division of Multimodal Transportation Resources, 505 Deaderick St., Suite 1800, James K. Polk Bldg., Nashville, TN 37243. 
"This project is funded under a grant contract with the State of Tennessee."  All notices by the Grantee in relation to this Grant Agreement shall be approved by the Grantor State Agency."