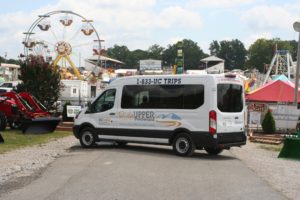 The Ride and Go Upper Cumberland bus service has expanded to Algood.
Seven stops will be made in Algood, plus riders can flag down the bus or call to request pickups at other locations.
City Administrator Keith Morrison said bus stops could be tweaked if certain areas have more or less riders.
The stops in Algood include Algood Walmart, Rolling Meadows, Algood Housing, Senior Center, Quinland Ridge, Garden Grove and Greenwood Place.
"You can ride it for free (this week)," Morrison said. "It's an hour round trip, so every hour it's back to where it's at. We're having signs made for bus stops."
Ride and Go is hosting a free-ride event Wednesday, Dec. 11. The buses will accept canned food donations in lieu of payment or passes.
Morrison said after this week, riders will pay $1 per ride, with elderly and disabled riders paying 50 cents.
Algood City Council will meet for its December Council meeting tonight, Tuesday Dec. 10, at 6 p.m. in Algood City Hall.