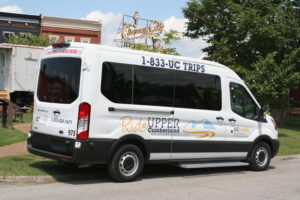 Upper Cumberland's public transportation system known as UCARTS is getting a new name and exterior design. Riders can expect to see the newly rebranded buses, now known as Ride Upper Cumberland, on the road in Overton County.
Ride Upper Cumberland, formerly known as UCARTS, is a division of Upper Cumberland Human Resource Agency's (UCHRA) public transit system, which offers door-to-door transportation service for any individual in all 14 counties of the Upper Cumberland.
This service is available Monday through Friday, 6 a.m. until 6 p.m. Interested riders must schedule trips 24 hours in advance.
Though the look of the buses has changed, the service including ride fares will remain the same. Local trips are $1 each way and $1 for each additional stop. Fares outside of the designated local area are based on miles traveled and are charged accordingly.
"Even though we've changed the look and name of UCARTS, riders can rely on the same affordable, safe and dependable service that our transit system has always provided," UCHRA Deputy Director/ Director of Transportation Rebecca Harris said. "Ride Upper Cumberland services are available to all citizens in the Upper Cumberland, young, old, and disabled. Anyone can ride the bus."
UCHRA has already begun placing the rebranded buses on the road, with more buses being transitioned into use over the coming weeks.
The rebranding of Ride Upper Cumberland and other divisions of UCHRA's transportation fleet follows the agency's rebranding effort. UCHRA recently changed its logo and will be releasing newly branded marketing materials soon.
The Ride Upper Cumberland transportation service is funded under an agreement with Tennessee Department of Transportation.
Upper Cumberland Human Resource Agency (UCHRA) was established by the Tennessee General Assembly in 1973 to be the delivery system for human resources in the 14 counties of the region. The programs operated by UCHRA initially included job training and transportation. During ensuing years, UCHRA has expanded to supply a wide range of services that use a combination of funds from federal, state, and local organizations.