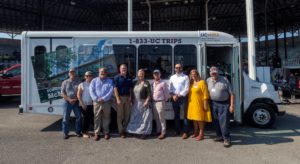 More than 200,000 trips were made by Upper Cumberland Resource Agency transportation vehicles in the 2018-2019 fiscal year, according to its annual report.
The UCHRA Transportation Department includes UC Transit, Ride Upper Cumberland, Connect Upper Cumberland, Go Upper Cumberland, Mobility Management, Shuttle On Schedule, MyRide Upper Cumberland and Temporary Emergency Food Assistance.
There were 264,886 trips made in the UC and 676,501 pounds of food provided through emergency food assistance to low income families in the UC in fiscal year 2018-2019.
The UCHRA Community Services Department includes the Senior Community Service Employment Program, which served 52 people in the fiscal year; Housing Opportunities for Person with AIDS, which served 46 people; Ryan White Community AIDS Partnership, which served 56 people; Low-Income Energy Assistance Program, which served 5,586 people; Weatherization Assistance Program, which served 42 people in 24 homes; Child and Adult Care Food Program, which served 1,931 children; Social Services Block Grant, which provided 7,376 hours of service  households; Community Service Block Grant, which served 444 households; and Home and Community Services, which served 588 clients.
"We're trying to do our best to provide services to the disadvantaged populations of the Upper Cumberland," said UCHRA executive director Mark Farley. "We want to help."
People in 14 counties, including Putnam, are served by UCHRA.